Posted by: Andee / Category:
Atheism
,
Book of Mormon
,
Church
,
Dad
,
Family
,
God
,
Mormon
,
Religion
,
Scary
,
Stupid
,
WindySydney

I had a dream last night that I was walking around temple square in Salt Lake City with my Dad (who passed away from cancer in 1998). Dad wasn't religious at all, and that is what made the whole dream even weirder... I guess it was just one of those things. I have always had dreams with my loved ones who have passed away.

A couple years ago, if I had this same dream, I would be jumping up and down because my Dad came to visit me in a dream. I used to think that they were really reaching out to me and trying to communicate with me or give me a message. Now? Not so much.

Church dreams usually piss me off. Probably because I never remember the whole dream and I start obsessing about what happened. This leads to more thinking about the church, it's doctrines and how much it really fucked with my head.

Sometimes I feel like I have been able to put the church thing behind me, other times I get just as angry as I did when I found out the truth for the first time. Is it something I can get over? Maybe. I think it would be easier if my family members didn't assume the worst of me all the time, dropping not-so-subtle hints about going to church or saying a prayer, giving me the evil eye every time they see a coffee mug in my hand... you get the idea.

When I started learning the truth, I was really mad. I was mad that I was lied to. I wanted to drive to Salt Lake City and demand answers from the men in white shirts. I wanted to scream from the balcony of a hotel...

"They are lying!!! Lying!!"



Of course that would have been counterproductive and I would have ended up in jail :) So, I started WindySydney instead, starting out as an anonymous person questioning Mormonism in the heart of LDS Country. I am glad I did. It's great therapy.

The truth.

The church taught me to tell the truth since the time I was a sunbeam. Tell the truth, kiddos! God is always watching you. The Deity won't hesitate to put down marks on your permanent record! Lies only get bigger and bigger until they explode and ruin your life!

Why can't they take their own advice?

Why is it that they are not completely truthful to the members of their church? To the people who are considering getting baptized?



Oh, I know... there are many Mormons who will claim they know everything about church history and they still "know" the church is true. They claim that the lack of information or lack of complete information isn't important at all, and that we shouldn't worry about it. Seth, the Mormon commenter I finally started ignoring due to his arrogance and condescending attitude, would always make these points.

If it's not important, then why bother hiding it? Why go out of your way to tell the people in the church that they can't trust information from anyone else? Why edit the Book of Mormon and change things? Why don't they discuss certain aspects of church history and really get into the heart of the matter?

My Mom and I were talking a long time ago, and she told me she wanted nothing more than to go to Relief Society and have a lengthy conversation about polygamy, both in this life and the afterlife. That would never happen, though. It's not talked about because they would rather not talk about it and live in denial.

People are afraid of the truth.

How is it that certain people automatically get believed when they spout off nonsense? Pat Robertson is a good example, Thomas S. Monson is another. Regardless of what these two people say or do (among others) their followers will believe them. No questions asked. None.

Anyone who sets him or herself up as God's infallible wing-man on earth should be looked at from every angle. Instead, the sheeple nod their heads, say their prayers and thank their God that they belong to the right church.

What has Thomas S. Monson done to prove he is a prophet? What kind of prophecy has he given that has come true? Has he ever made comments about meeting with Jesus and God in the temple? Having conversations with them about things? Has he ever even attempted to show the people on earth that he really is a prophet?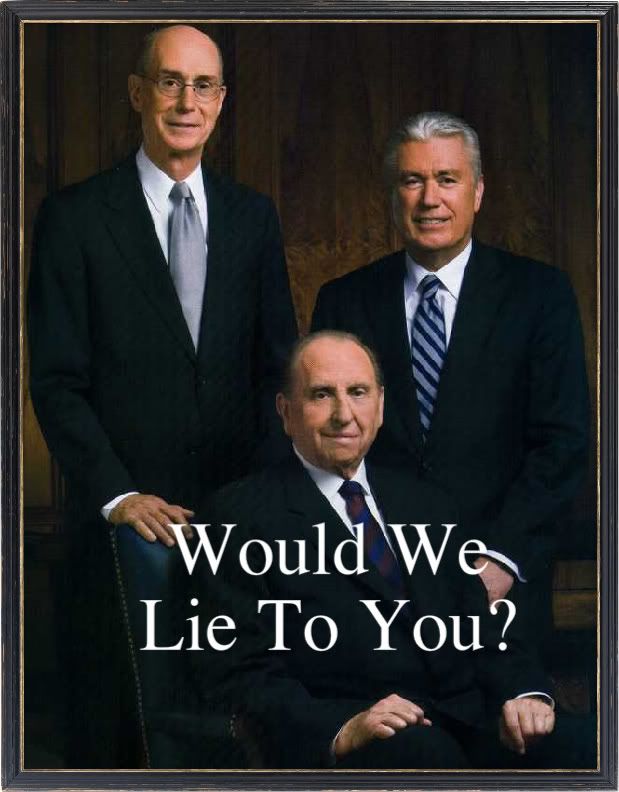 I think it comes down to one very important decision everyone has to make at one point or another...

Do I want to go along with the flow, or do I want to find the truth about things?

Is the truth more important than the warm fuzzies?

Is the truth worth alienating friends and family members?

Is the truth worth the constant comments and aggravation from members of the church who are convinced I am being misled?

The answer to those questions is a big, fat YES.

I want to know things, to understand them, to embrace what we have in the moment. I don't want to cross my fingers that I choose the right religion, waste time in hundreds of meetings, pray to a God that will ignore you, give up 10% of my money, or belong to a corporation that doesn't think twice about trying to limit the rights of people who are different than they are.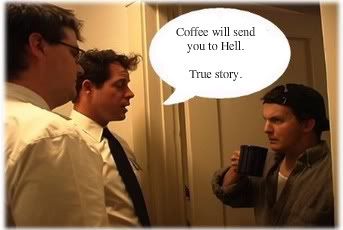 It wasn't easy to learn the truth and have to make big decisions about who I should tell or shouldn't tell. I knew first hand what the church tells members about apostates. I knew what I was up against... and until Mormons go through that themselves they have no idea just how huge and life-changing that can be.

The church was a part of my very existence. It was something I thought about constantly. It's hard to walk away from the normalcy, the comfortable bubble.

I still find myself humming church hymns. I will be walking over to my Mom's house and I will find myself singing Nearer My God to Thee, Choose the Right, Teach Me To Walk in the Light, Count Your Blessings, and I am a Child of God. Those melodies will be in my head forever... and they are catchy, too. Especially after singing them every Sunday (sometimes more) in a boring, slow paced, nearly monotone, funeral death march beat.

So, I have a question for you guys...

Why is it that certain topics are taboo? Not discussed? Why doesn't the church address these things head-on instead of pretending they are not there?

Why are there historically incorrect pictures shown to members of the church that conveniently leave out things like seer stones?

Why doesn't the church recognize that the Book of Abraham isn't even close to being what Joseph Smith said it was?

Why do they tell the members of the church that they shouldn't go on the internet for information about church history and instead only trust info that comes directly from the men in white shirts?

I think I will always be angry about this. Not because I have a dark, Godless heart... but because I went through so much guilt and drama. My anger isn't directed at the members of the church, it's directed to the leaders who have the information at their fingertips and continue to make excuses for the actions of prior leaders.

If you aren't angry, you aren't paying attention.

It's not even close to being a moral thing to do... picking and choosing what information to give. It's so underhanded and sly that it makes me shake my head in disgust.

How do they get away with it?

Shouldn't people all over the world hold religious organizations accountable for the outright lies they tell on a daily basis? Why aren't there more people willing to stand up and demand answers from these people?

I do take comfort in knowing that there are more and more people coming to their senses about Mormonism. That goes for other religions as well. The age of information is upon us, and those who take advantage of the wealth of information learn and grow. Atheism is getting more and more common, and while I don't really care what people believe (as long as they don't make me live by their religious rules: UTAH) I think it's good that people are looking at things in a logical and careful manner.

Blind faith gets you nowhere. You just spin your wheels, devoting time and energy to a belief system that just isn't right. You feel guilt for normal things, you give money to an already wealthy church, and you beat yourself up for not being who the "Lord" wants you to be.

I love truth.

Andee