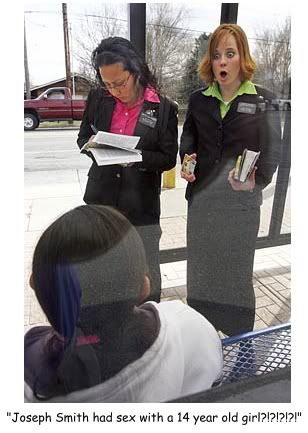 I had some free time this morning, so I went over to Mormon.org and spoke with a missionary... I was transferred three times. They must be busy. I played the part of Kelly


You are speaking live with /John/, who is a member of The Church of Jesus Christ of Latter-day Saints. Information provided in this session is to provide assistance only and is not an official statement of the Church.



Melanie: hello how may I help you?



Kelly: Hi, I have a couple questions if that is okay...?
Kelly: A good friend of mine is a Mormon, and he is trying to get me to take some lessons from Missionaries. However, I don't agree with some

of the things I have found online. I thought I could talk to you online?



Melanie: yes please do...



Kelly: Thank you.



Melanie: know that i'm talking to a few other people and it might take a moment to respond, but I'm here



Kelly: Ahh, no problem, thank you for letting me know. I thought we had a connection problem!
Kelly: Well, my first question is about polygamy. My friend, Tyler, told me that Mormons no longer practice polygamy, but I have a big problem with it anyway.



Melanie: hey Kelly, I'm going to transfer you to someone that doesn't have as many chats...they'll be able to read what we've already said...





Melanie: Has transferred you to:



Kelly: Oh, okay.



John: Has transferred you to:



Kelly: Who am I talking to?



Ryan: hi kelly how are you today?



Kelly: Good, thank you.
Kelly: How are you?
Kelly: I have some questions about the Church if that is okay with you?



Ryan: well thats good so i read from above that you had some questions on polygamy right?




Ryan: my name is ryan parker



Kelly: Yes, polygamy and other things. :)
Kelly: Polygamy is a good place to start.
Kelly: As I was getting ready to tell Melanie, my friend Tyler was telling me that Mormons no longer practice polygamy.



Ryan: im really good today




Ryan: its a good day



Kelly: However, I have a problem believing that God would command this of anyone.

Ryan: thats all ok by me
Ryan: ok shoot im here to answer

Kelly: Joseph Smith said that an angel with a flaming sword commanded him to practice polygamy or he would be destroyed? Then I found out that two of his wives were only 14? How is that possible? Why would God command that?

Ryan: sounds ok to me
Ryan: that is true

Kelly: You really believe God would command that Joseph marry two fourteen year old girls?
Kelly: I really can't wrap my head around that.

Ryan: well in all honesty im not sure exactly why god would comand it

Kelly: That makes two of us.
Kelly: I can't think of one good reason.

Ryan: but you have too remember our ways are not our ways

Kelly: What do you mean?
Kelly: I was doing some research and I have learned that it wasn't common at all for girls that young to be married. So, if Joseph Smith married them and told them god commanded it of them, shouldn't there be a good reason behind it?

Ryan: there is a scripture in the book of isaiah that talks about the way we think and god thinks

Kelly: Hmm... I found a quote, can I share it with you?

Ryan: sure

Kelly: Argh, I lost the page...

Ryan: 8 ¶ For my thoughts are not your thoughts, neither are your ways my ways, saith the Lord. 9 For as the heavens are higher than the earth, so are my ways higher than your ways, and my thoughts than your thoughts. this is in isaiah 55

Kelly: Give me a couple seconds :)

Ryan: thats ok

Ryan: whenever somehting comes up that i dont like or i think is off this is what i remember

Kelly: "Without any preliminaries, my father asked me if I would believe him if he told me that it was right for married men to take other wives."

"The first impulse was anger... My sensibilities were painfully touched. I felt such a sense of personal injury and displeasure; for to mention such a thing to me I thought altogether unworthy of my father, and as quick he spoke , I replied to him, short and emphatically, NO I WOULDN'T! This is the first time that I ever openly manifested anger towards him."

"Then he (my father) commenced talking seriously and reasoned and explained the principle (of polygamy) and why it was again established upon the earth, etc."

"This first interview had a similar effect to a sudden shock of a small earthquake. When he found (after the first outburst of displeasure for supposed injury) and I received it meekly, he took the first opportunity to introduce Sarah Ann to me as Joseph's Wife. This astonished me beyond measure."

"Having a great desire to be connected with the Prophet, Joseph, he (my father) offered me to him; this I afterwards learned from the Prophet's own mouth. My

father had but one Ewe Lamb, but willingly laid her upon the altar: how cruel this seemed to my mother whose heartstrings were already stretched until they were ready to snap asunder, for she had already taken Sarah Noon to wife and she thought she had made sufficient sacrifice but the Lord required more." - Helen Mar Whitney Journal, Helen Mar Autobiography, Woman's Exponent, 1880 and recently reprinted in A Woman's view

Ryan: hmmm thats an interesting quote
Ryan: are you a believer in the bible?

Kelly: She wrote that in her journal.
Kelly: Well, we are not talking about the bible, we are talking about Mormon polygamy.
Kelly: I am not trying to be rude, please don't assume that.

Ryan: oh no none taken
Ryan: im just wondering if you believe in the bible
Ryan: there is a point to it

Kelly: I have problems with the Bible.
Kelly: I don't take it literally.

Ryan: what parts?

Kelly: The killing, the God that would ask someone to kill his son, the angry God.
Kelly: I don't believe in that kind of God.
Kelly: The God I believe in is all-knowing and all-loving.
Kelly: The God in the bible sounds vengeful and hateful at times.

Ryan: do you know where it says that ?

Kelly: Not off the top of my head, no.

Ryan: im not familiar with it

Kelly: I attended church as a child, and I remember stories like that.
Kelly: It made God seem as if He were mean, just waiting for us to mess up so he could send us to Hell.

Ryan: was it abraham?

Kelly: Not sure.
Kelly: Sorry... maybe.

Ryan: because i rememer that story he told him to make him a sacrifice, but god never intended for him to be sacrificed. it was a test of faith for abraham

Kelly: The story I remember is God asking someone to kill his son in order to test his obedience. Then when the guy went to kill his son, God came down and told him he could kill an animal for sacrifice instead.
Kelly: Yeah, why in the WORLD would God do something like that?

Ryan: thats the only scripture i am really familiar with that says that

Kelly: I think thats it.
Ryan: but its ok i know where that could get confusing
Ryan: yes that would be the story of abraham and issac

Kelly: okay, that stuff bothers me.
Kelly: I don't believe God would do that.

Ryan: its a test of faith, its to prove that you really believe and trust in the lord. of course god would not have him sacrifice his only son after he promised that abraham would be a father unto all nations

Kelly: A test of faith? Sorry. I don't believe he would do it.
Kelly: No rudeness intended.

Ryan: well as i said before god has different plans for all of us, sometimes its hard. are you familiar with the story of job?

Kelly: No, but again... what does this have to do with the fact that Joseph Smith married two fourteen year olds?
Kelly: I am not trying to be mean, but the issue isn't the bible.

Ryan: none taken your ok
Ryan: well all thru ought the bible the lord commanded the prophets at the time to allow plural marriage

Kelly: Yet another reason I don't take the bible literally.
Kelly: I don't see how God would want women to be treated as less than equal.

Ryan: it goes all thruought the bible, he had a reason for having joseph smith re enact what happened then with that sort of marriage
Ryan: it is a tough thing to believe i know

Kelly: Darn skippy.
Kelly: :) I don't believe it.
Kelly: I also found some quotes by prophets (I think they are prophets in your church, I don't know much about it).

Ryan: myself i would only want one wife... if i was commanded by god i would follow but not with a willing heart
Ryan: which prophets?

Kelly: "Brethren, I want you to understand that it is not to be as it has been heretofore. The brother missionaries have been in the habit of picking out the prettiest women for themselves before they get here, and bringing on the ugly ones for us; hereafter you have to bring them all here before taking any of them, and let us all have a fair shake." - Apostle Heber C. Kimball, The Lion of the Lord, New York, 1969, pp 129-130
Kelly: Was he a prophet?
Kelly: Sorry if he wasn't...
Kelly: He is basically saying that the young men take all the beautiful women before giving the older men a chance? Women are not objects..

Ryan: yes he was but he was not involved with polygamy at all the practice of polygamy ended in the late 1800's if im correct

Kelly: Well, some of the websites I have seen say that polygamy happens in the mormon heaven?
Kelly: They said that in the Celestial Kingdom (is that heaven?) a man will have more than one wife and they will have spirit children and have their own planet of some kind?
Kelly: I read a story saying that a Mormon man and woman married, his wife sadly passed away, and he remarried. He is then going to be with both of his wives forever? Thats polygamy?

Ryan: which websites? some people are out in the world to try and decieve, so i need to know what site so i can tel you if its accurate


Kelly: Just tell me if what I said is accurate...
Kelly: Do you believe in polygamy in heaven?
Kelly: Do you believe that we become Gods and Goddesses?
Kelly: Thats bizarre to me.

Ryan: we believe that a man and woman can be sealed together for time and all eternity yes

Kelly: But can the man have more than one woman sealed to him?

Ryan: yes we also believe that if we are true and faithful thruoght this life we can recieve the same glory as god yan: yes it is true that a man can be sealed to more than one wife
Ryan: also

Kelly: Can a man have more than one woman sealed to him?
Kelly: I don't see how that isn't a belief in polygamy.

Ryan: but you have to remember that it is what god has revealed and some of the ordanances as to why

Ryan: yes a man can

Kelly: Being sealed to more than one woman is polygamy, though.

Ryan: im not exactly sure on the doctrine behind it, but it is something that can be done

Kelly: Well, if you believe that a man can have more than one wife for eternity, there is a belief in polygamy.
Kelly: I don't get it.
Kelly: Lets talk about something else...

Ryan: i guess it could be seen that way,

Kelly: I see it that way.

Ryan: in the book of exodus it talks about it
Ryan: ok sounds good

Kelly: I find it slightly offensive (please don't take personal offense to that... I don't know you and I am not trying to insult you) that I should have to share a husband in the afterlife.

Kelly: Okay, I also found that many of the past leaders of your church taught that black people were cursed by God. What happened there?

Ryan: i know how that would seem and if i were in a womans shoes i would not like it either but there is a reason behind it i just dont know it

Kelly: You wouldn't like it one bit. That much I can promise you. It's not right, it's sexist.

Ryan: well back when it was adam and eve on the earth, they had 2 sons cain and able
Ryan: the devil tempted cain to kill his brother
Ryan: when cain killed his brother the lord cursed him with a skin of blackness

Kelly: So, you think that black people are cursed?

Ryan: it was not only a curse on him but his posterity to, it was to show people what cain had done
Ryan: no, not black people today one of the men i know is black and he is an amazing person.

Kelly: Well why then and not now?

Ryan: the skin color is passed down thru the posterity as for the curse on cain it is on cain only oly his skin color passed down

Kelly: If I read one of the quotes correctly (I will try and find it) the person said that black people were cursed for not being good in the life that existed before they were born.
Kelly: Another one said that skin would get lighter if they accepted Mormonism?
Kelly: I don't believe skin color has anything to do with being good or bad, or being related to someone who is good or bad. It's science. It's simply genetics.


Ryan: the skin color would become lighter if they accepted the gospel of jesus christ



Kelly: Why would the Mormon religion teach that skin would grow lighter if they accepted the gospel? This is scientifically impossible.

Ryan: its not something that happens immidiately but it happens

Kelly: Really? Do you have proof of that?
Kelly: I have many african-american friends who go to church ever Sunday and read their bibles daily. Their skin hasn't changed, and why should it?

Ryan: in the book of mormon it talks about that, when a group of lamanites took a covenant to follow the gospel their skin became lighter that from the previous darkness they had had

Kelly: But is there any real proof of that?
Kelly: I understand you believe in the Book of Mormon, and that there are quotes of being "white and deligtsome" (which I think sounds racist) but is there real proof that skin color got lighter?
Kelly: I think all skin colors are beautiful, and I believe God feels the same way.

Ryan: yes god loves his people very much every way shape and form including skin because he looks on the inside not the outside

Kelly: "And after the flood we are told that the curse that had been pronounced upon Cain was continued through Ham's wife, as he had married a wife of that seed. And why did it pass through the flood? because it was necessary that the devil should have a representation upon the earth as well as God;..." Journal of Discourses, Vol. 22, page 304
Kelly: Why would someone who supposedly talks to God (John Taylor said that) preach something so different?

Ryan: maybe it was just a way for people to know who was a believer and who was not im not sure of the ways of god


Ryan: god told cain that he would be cursed upon this earth till the second comin

g

Kelly: So you *do* believe blacks are still cursed?
Kelly: Thats really racist.

Ryan: they do not cary the curse of cain upon them, they have a skin of blackness yes but they are not a cursed people

Kelly: But you just said "God told Cain that he would be cursed upon this earth until the second coming."
Kelly: This kills me.
Kelly: "Not only was Cain called upon to suffer, but because of his wickedness he became the father of an inferior race. A curse placed upon him and that curse has been continued through his lineage and must do so while time endures. Millions of souls have come into this world cursed with a black skin and have been denied the privilege of Priesthood and the fullness of the blessings of the Gospel. These are the descendants of Cain. Moreover, they have been made to feel their inferiority and have been separated from the rest of mankind from the beginning.... we will also hope that blessings may eventually be given to our negro brethren, for they are our brethren-children of God-not withstanding their black covering emblematical of eternal darkness. " The Way to Perfection, pages 101-102.



Ryan: yes he told cain that "he" would but his posterity would only have the color of his skin

Kelly: So, if that is the case, why didn't the church let those with dark skin hold the priesthood? Why were they punished for something Cain did?



Ryan: and black people have the priesthood today



Kelly: Yeah, I know.



Ryan: the lord has a time and purpose for everything and my guess is that the lord had a time



Kelly: Why would God punish a whole race of people for something one guy did?
Kelly: So you don't really know?
Kelly: I mean, I can't believe this stuff unless there is a really good explanation. You have no explanation besides "only God knows?"
Kelly: "That negro race, for instance, have been placed under restrictions because of their attitude in the world of spirits, few will doubt. It cannot be looked upon as just that they should be deprived of the power of the Priesthood without it being a punishment for some act, or acts, performed before they were born." The Way to Perfection, page 43.



Ryan: that quote is tallking about the pre earth life



Kelly: Yes, that quote says that ALL black people were cursed for something they did before they were even born?
Kelly: How is that the same as being cursed from Cain?



Ryan: the lord may have decided that they should be placed there because of their actions in the pre earth life



Kelly: But doesn't science pretty much prove that the closer you are to the equator the darker the pigment in your skin to protect you from the suns rays?
Kelly: Those with dark skin come from locations on earth that are close to the sun in distance.



Ryan: im afraid my time is up but let me send you to another person



Kelly: Many of my friends who happen to be african american are some of the best people I have ever known in my life. I am supposed to accept they are being punished for something because of their skin color?
Kelly: Thats okay.



Ryan: Has transferred you to:



Kelly: This church isn't for me.



John: hi Kelly