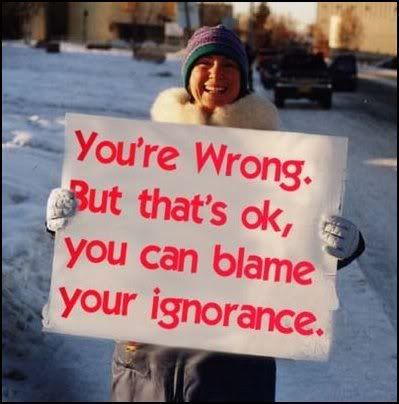 Last week my Mom came home from the gym and there was a gentleman sitting on her front stairs. It was a delivery person for Schwan's.

Mom is really polite and kind, and took a brochure. They struck up a conversation about her looking for a job in this insane economy, and somehow the topic turned to religion and church.

Now is a good time to point out that this man was African-American. After Mom told him that she had resigned from the Mormon church, he started to share his testimony of the Mormon gospel. It was a very strange encounter for her to say the least.

She was interested in one thing, though. How he dealt with the racism in the church's past (and sometimes present when you talk to certain members of the church). She asked him if she could ask him a personal question, and when he said "yes," she asked "How do you reconcile some of the things the church has said and promoted in the past?"

He said, "My bishop told me to ignore everything I had every heard about blacks and the church."

Holy. Shit.

Oh sure, like that is something you should just drop from your radar screen. Hello??? What the HELL???

This, to me, is evidence of mind control. This man's leader told him what should be a problem and what shouldn't. He obviously thought it was a problem at one time if he was speaking to his bishop about it. Why should he ignore and forget the comments that he would only be allowed into the Celestial kingdom if he went as a slave or servant to a white man? Why should he forget that Brigham Young told people that mixing your seed with a black person was punishable by death (supposedly the only way to save your soul for committing such a deed).


"Shall I tell you the law of God in regard to the African Race? If the White man who belongs to the chosen seed mixes his blood with the seed of Cain, the penalty, under the law of God, is death on the spot. This will always be so." (

Journal of Discourses

10:110) -Brigham Young




"And after the flood we are told that the curse that had been pronounced upon Cain was continued through Ham's wife, as he had married a wife of that seed. And why did it pass through the flood? because it was necessary that the devil should have a representation upon the earth

as well as God;..."

Journal of Discourses

, Vol. 22, page 304 -John Taylor




"And if any man mingle his seed with the seed of Cain

the only way he could get rid of it or have Salvation would be to come forward and

have his head cut off

and spill his blood upon the ground- it would

also take the life of his children

." (

Wilford Woodruff Journal

)
I often wonder how many people really understand how bad the racism was. I don't think they do. I think they know it existed, but they have never read the quotes. They have never studied the history of the church they claim to "know" is true. To know something is true, you should look at the whole picture, not just what the church wants to share with you.
In my opinion, The Church of Jesus Christ of Latter-day Saints would have never changed their stance on African-Americans (and other dark-skinned people) holding the priesthood or going to the temple if they were not forced to do so by public opinion. The only reason they changed their minds is because people saw them for what they were... bigots.
Yet another way to show that
non-Mormons and ex-Mormons know more about church history
than most of it's members do. We are seen as people who are either misled or wrong, we are told that *we* don't understand. Sorry... we actually know the whole story and see the big picture. We are the ones who looked at Mormonism objectively.
Frustrating to say the least!
Andee