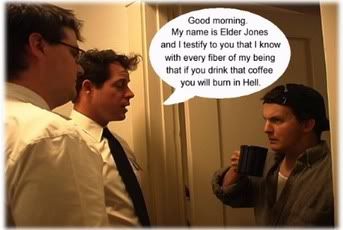 From time to time I make my way over to Mormon.org and I chat with a missionary. I like to try and learn what they are teaching new converts about their church, and what kinds of things they emphasize when they are having conversations with people. If they knew that I was someone who planned on resigning soon, they wouldn't give me the time of day... so I have to reach into my acting skills and play the part of a young woman with questions.

Today I was passed around between three different missionaries. When one got frustrated with my questions about racism, polygamy and science they would "have to go" or "have software problems" and force me to restart.

I asked questions about polygamy. I asked one guy why God would tell Joseph Smith to marry single women to take care of them when it was possible to just take care of them as friends? He didn't have an answer for me except that he had faith it was a commandment from God. Good for him.

Another young man told me that he thought of Joseph Smith this way:


"Did you ever have a friend that you knew was a good person, yet someone walked up to you and told you that your friend did something horrible? Thats how I feel about Joseph Smith!"
Oh, Lord.
I did my best to say that I would look at all the evidence involved with my "friend" and come to the conclusion that made the most sense. I wouldn't just dismiss the claims of someone I didn't know because they might be correct. I told him to pretend for a moment that I was married to a cheating man and I didn't know he was cheating and I believed he would never cheat on me. One day a woman walks up and tells me that she was having his baby. Should I just put faith in my pretend husband, or check things out for myself?
He didn't have much of a reply.
It's when things went into racism that I really got to one guy. I shared a quote from John Taylor:
John Taylor, President of the Church

"And after the flood we are told that the curse that had been pronounced upon Cain was continued through Ham's wife, as he had married a wife of that seed. And why did it pass through the flood? because it was necessary that the devil should have a representation upon the earth as well as God;..." Journal of Discourses, Vol. 22, page 304
The mishie then told me he didn't know why God chose to use dark skin as a curse. I then shared with him that skin color has nothing to do with a curse, it's biology and genetics. It's SCIENCE.
He didn't really respond.
I then asked him if his current prophet were to do or say something he didn't agree with if he would obey without question. He told me he wouldn't, and I found that interesting. I asked him if he thought that any of the people following John Taylor and repeating his racist statements just obeyed without question. He didn't respond.
I then shared a quote:
"When the prophet speaks, the thinking has been done."
He told me he had to leave and go to church.
Andee