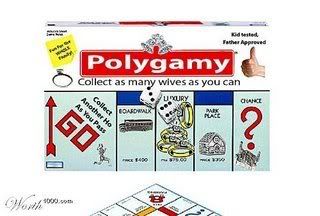 The recent raid on an Fundamental sect of the Mormon Church has brought many conversations with my family, friends, and co-workers. A few days ago I caught a conversation about the topic on PostMormon.org, and I agreed with something that "no testimony" had to say. Much of this article is taken from her statement, and I thank her for the inspiration.

You always hear believing Mormons claim something like... "I wish people wouldn't assume we all practice polygamy. We stopped that practice long ago, and we don't agree with it."

Sorry, I disagree. Mormon's still believe polygamy to be an eternal principle. Mormon's believe they will practice polygamy in heaven. When I asked my Mom's ex-bishop about the practice of polygamy in heaven, he admitted that it was true. He even went as far as to tell me that most men are "Jerks" and wouldn't make it to the celestial kingdom. Riiiiight. Polygamy is a sexist and degrading practice, and you are kidding yourself if you think it's positive in any way, shape, or form.

What happens when a true-believing Mormon's wife dies and he re-marries in the temple? He has two women sealed to him in the afterlife, doesn't he? Doesn't that count as polygamy? Certainly does in my book.

When Mormons claim they don't practice polygamy, they mean... "We don't practice it right now." It's misleading to claim that they church doesn't practice polygamy and it isn't a part of their doctrine. It is. What is worse is that this isn't discussed with most converts before they are baptized into the Mormon faith. Most Mormons would have heard the phrase, "Milk before Meat" meaning that you teach a convert the easy to digest doctrine before giving them the full and complete doctrine of the church. It's as good as lying.

Things like this are not discussed openly. If you want to discuss polygamy in the afterlife, you don't ask questions in church classes... no. You talk about it quietly with the bishop, or family and friends. Why? Because they don't want other people to learn about it.

If polygamy is an eternal principal, I want no part of it. I don't think sharing some guy in heaven with tons of sister wives and raising our spirit children is my idea of a good time. That is supposedly heaven? Are you kidding me? No thanks.

The FLDS communities are basically practicing what Joseph Smith preached. They are still true to his teachings, and the modern church is not. You can say what you want about Mormons and polygamy, but it exists, and it's wrong.